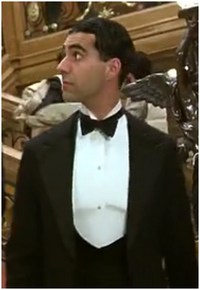 Victor Gaitan Andrea Giglio was born in Toxteth Park, Liverpool, England on 17 June, 1888, the son of Italian cotton merchant, Frederici Josephi (Frederick Joseph) Giglio and his Egyptian wife, Despina Sepse. He was baptised at the church of Maria de Monte Carmeli (Our Lady of Mount Carmel) in Liverpool on 21 July, 1888.
In James Cameron's film, Titanic, Victor Giglio was played by Chris Cragnotti in an uncredited performance.
Little is known of Victor's life nor how he came to become employed by one of America's richest men but he and his employer are listed as arriving at Fishguard aboard the Lusitania on 16th January 1912. Giglio was valet (probably more of a secretary or personal assistant than a servant) to Benjamin Guggenheim. They embarked the Titanic at Cherbourg (ticket number 17593). Guggenheim and Giglio occupied cabin B-84. Guggenheim's French chauffeur, Rene Pernot, travelled in second class (although Pernot was never seen on-screen). Also aboard the ship was Guggenheim's mistress Leontine Aubert.
Shortly before the Titanic went down, Giglio returned to his room and changed into his finest evening wear, his master, Guggenheim did likewise. He was last seen sitting on a chair with a glass of brandy with Guggenheim watching in horror as first class passengers tried to escape the rushing water.
Giglio and Guggenheim were both lost in the sinking. He can be seen in the dream sequence.
Community content is available under
CC-BY-SA
unless otherwise noted.