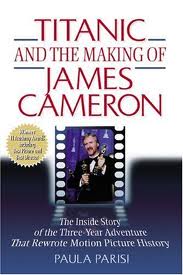 Titanic and the Making of James Cameron
is a book written by Paula Parisi about James Cameron, the filming of
Titanic
, and the film itself. It was published in 1998 by Newmarket Press
Summary (From Book Jacket)
Edit
"The unsinkable Titanic had twice made history - once when she went down during her maiden voyage on April 15, 1912, and again when James Cameron transformed her story into the century's most successful film ever,
The first film to gross over $1 billion worldwide, winner of 11 Academy Awards (for Best Picture, Director, Cinematography, Film Editing, Art Direction, Costume Design, Original Dramatic Score, Original Song, Visual Effects, Sound, and Sound Effects Editing.), Titanic has been the subject of continuous media coverage, but not until now has the whole story behind the movie been told in such fascinating behind-the-scenes detail - including excerpts from Cameron's journal - that you feel you are there, reliving the three-year adventure with the extraordinary film maker and his co-creators.
From the moment Cameroin first pitched his concept ("Romeo and Juliet on a boat") to the day he attended the world premiere in Tokyo, Parisi captures all aspects of Cameron's process, from his explanatory deep dives to the sunken ship through the writing, casting, music, production design, cinematography, editing, marketing, and, of course, the money - big money. Step by step, Parisi shows how the original $110 million budget careened out of control, and what Cameron and the studio heads at Fox and Paramount did about it. Not merely a unique story about the making of an extraordinary movie, this is a story of obsession, passion, and one man's visionary quest for perfection."
Titanic and the Making of James Cameron