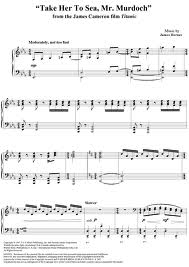 "Take Her to Sea, Mr. Murdoch" is a song written and composed by James Horner for the film Titanic. It is also featured in the film's soundtrack. The song is used in the film when the ship first begins its voyage to New York. The title follows the quote that was said by Captain Smith to First Officer Murdoch as they set sail. The first page of sheet music for the song is to the right:
There is an alternate version of the song in which the ending features strings pitched up an octave, cymbal crashes, and an ending brass fanfare. It is found on disc 3 of the 20th anniversary soundtrack.
In the film, the driving thumping bass line in the middle of the song is amped up. The alternate ending is used but then fades.