Mrs. Dahl

Biological Information
Full name

Mrs. Dahl

Gender

Female

Born

November 18,1827

Death

April 15, 1912 (age 84)

Cause

Perished on the Titanic

Background Information
Family

Olaf Dahl (husband)
Helga Dahl (daughter)

Hometown

Somewhere in Norway

Religion

Christian

Titanic Statistics
Boarded
Destination

New York, U.S.A.

Occupation

Passenger

Class

Third class

Fate

Falls from the stern into the sea. Died on impact or of hypothermia.

Production
Classification

Fictional character

Portrayal

Uncredited
Mrs. Dahl was the mother of Helga Dahl, and the wife of Olaf Dahl. Her first name is never revealed, because she was a minor character. She (with her family) boarded the Titanic as a third-class passenger.
Upon boarding, her daughter falls in love with another third-class passenger, Fabrizio De Rossi. Like her husband, Mrs. Dahl did not approve of the romance (presumably because he was not Norwegian as they were).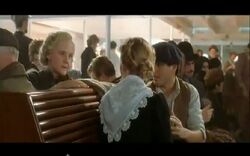 The two of them persuade Helga to stay with them instead of looking for a lifeboat with Fabrizio and his friends when the Titanic begins to sink.
Helga died during the Titanic's sinking, but makes it farther than her parents, who apparently drowned. Mrs. Dahl and Olaf appear in Rose DeWitt Bukater's Titanic Heaven sequence. Her final scene is when she holds on to the rail before drowning when she falls off the ship after being pushed over the rail.
In James Cameron's film, Titanic, Mrs. Dahl was portrayed by an uncredited actress.
Community content is available under
CC-BY-SA
unless otherwise noted.