Mrs. Cartmell

Biological Information
Full name

Mrs. Cartmell

Gender

Female

Born

June 5,1870

Death

April 15, 1912

Cause

Drowned in third class

Background Information
Family

Bert Cartmell (Husband)
Cora Cartmell (Daughter)

Religion

Most likely Christian

Titanic Statistics
Boarded

Southampton, England

Destination

New York, U.S.A.

Occupation

Passenger

Class

Third class

Fate

Drowned while trying to escape third class with her family

Production
Classification

Fictional character

Portrayal

Uncredited
Mrs. Cartmell was the mother of Cora Cartmell, and the wife of Bert Cartmell. Her and her family were traveling on the Titanic in the third class. She had appeared in two scenes in the 1997 film Titanic, she appeared in a deleted scene when she and her husband come to pick up Cora from Jack (Rose) in the RMS Titanic's third class saloon.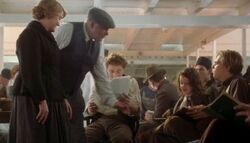 When the Titanic hits an iceberg, and it begins to sink (see Cora's Death), Mrs. Cartmell and her family put on their lifebelts and began rushing to the boat deck.
The family perished when they could not get past a locked third class gate and then drowned and went to the bottom of the Atlantic Ocean along with other passengers, crew and cargo who didn't make it out.
In the final cut version of James Cameron's film, Titanic, Mrs. Cartmell never actually appeared, since her appearances were all in deleted scenes. Despite her appearances in these deleted sequences, she was uncredited.
Community content is available under
CC-BY-SA
unless otherwise noted.