Helga Dahl

Biological Information
Full name

Helga Dahl

Gender

Female

Born

1894

Death

April 15, 1912 age (18)

Cause

Perished on the Titanic

Background Information
Family
Romances

Fabrizio De Rossi (lover)

Hometown

Somewhere in Norway

Religion

Christian

Titanic Statistics
Boarded

Southampton, England

Destination

New York, U.S.A.

Occupation

Passenger

Class

Third-Class

Fate

Fell into the sea, dying on impact.

Production
Classification

Fictional character

Portrayal
Helga Dahl
was a Norwegian Third-Class passenger aboard the
RMS Titanic
and the love interest of
Fabrizio De Rossi
.
Character history
Edit
Early life
Edit
Not much is known about Helga's early life except for the fact that she was born somewhere in Norway. She likely grew up there and would later plan on moving to America with her family.
Life on the RMS TitanicEdit
Helga can first be seen at Southampton, admiring the sheer size of the RMS Titanic and waiting to board with her family. When they boarded Helga eyed Fabrizio in the third class halls and fell in love with him immediately. The two properly met at a Third-Class promenade in a deleted scene and were happily dancing together at the evening party which is seen in the movie. Helga was dragged into a conga line, and took Fabrizio in with her. Fabrizio brought his best friend Jack Dawson and his lover Rose with him.
After the Titanic began to sink, Helga met up with Jack and Rose, with Fabrizio close behind. When he asked her to come with him to America, she refused (because of her demanding parents' orders) and stated that she could not, however, they both still loved each other.
Titanic's sinking and Helga's deathEdit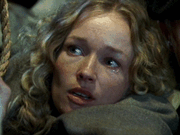 During the sinking, Fabrizio was killed by the ship's falling forward funnel. Soon after, Helga and her family ascended to the aft of the ship and were hanging by the rail. When the Titanic rose vertically in the air, Mrs. Dahl fell first, follow by Olaf Dahl, while Helga remained holding onto the railing the longest. Moments before the ship's final plunge, she looked hopelessly up at Rose, who sadly watched her slip and fall several storeys to her death in the freezing ocean.
When Rose is in bed at age 100 and goes to Titanic Heaven/dream, Helga and Fabrizio can be seen next to the Grand Staircase as Rose approaches Jack, with Helga happily clinging to Fabrizio's side. They applaud when Rose and Jack kiss, and are almost the closest people standing next to them, with Rose's maid Trudy being the closest.
Behind the scenes
Edit
She was portrayed by Camilla Overbye Roos. Most of her scenes were cut from the theatrical release.
Community content is available under
CC-BY-SA
unless otherwise noted.