Frederick Fleet (born 15 October 1887 – died 10 January 1965) was a crewman and survivor of the sinking of the RMS Titanic after it struck an iceberg on 14 April 1912. Employed as a lookout aboard Titanic, it was Fleet who first sighted the iceberg, ringing the bridge to proclaim, "Iceberg, right ahead!" Fleet testified at the inquiries that if he had been issued binoculars, he would have seen the iceberg sooner, because it was a blue iceberg in calm seas on a moonless night. He was 77 when he died.
Character history
Edit
Fleet was born in Liverpool on 15 October 1887. He never knew his father, and his mother abandoned him and ran away with a boyfriend to Springfield, Massachusetts never to be heard from again. Frederick was raised by a succession of foster families and distant relatives. In 1903, he went to sea as a deck boy, working his way up to able seaman.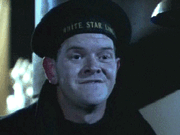 Before joining Titanic, he had sailed for over four years as a lookout in Oceanic. His address was given as Norman Road, Southampton. As a seaman, Fleet earned five pounds per month plus an extra 5 shillings for lookout duty. It was as a lookout that Fleet joined the Titanic in April 1912.
Fleet was one of the Titanic crewmembers assigned to man the lifeboats, after the ship started to go down. As such, he survived the ship's sinking and later served in the merchant service through World War I and again in World War II, after having been unemployed in the 1930s.
Fleet served on the Titanic's sister ship Olympic from 1920 to 1935 and signed on as ship's lookout and able seaman. Frederick's life unfortunately came to a bitter end when he spiraled into depression after the death of his wife. He later hanged himself on January 10th, 1965. He was buried in an unmarked pauper's grave until a headstone was erected by the Titanic Historical Society in 1993.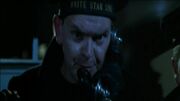 Behind the scenes
Edit
He was portrayed by Scott G. Anderson in James Cameron's 1997 film, Titanic.
In April 2012, the 100th anniversary of the Titanic's sinking, a pair of binoculars was placed on Fleet's grave with a note that can be seen here.
External links
Edit