Cyril Evans

Biological Information
Full name

Cyril Evans

Gender

Male

Born

1892

Death

1959

Background Information
Hometown

England

Titanic Statistics
Occupation

Radio Operator

Fate

Went to his stateroom to rest after listening to Phillips' message.

Production
Classification

Historical character

Portrayal
Cyril Furmstone Evans (1892-1959) was the radio operator for the SS Californian in 1912.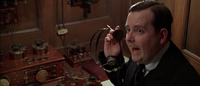 On April 14, 1912, he sent a warning to Jack Phillips, the radio operator on the RMS Titanic about the ice on the Atlantic Ocean, but Phillips in disgust told him to "Keep out! Shut up! I'm working Cape Race. Poker business good. Al". Evans became annoyed by that message and recited it to the ship's third officer Charles Groves. After that, he shut off his system and turned in to his stateroom.
Cyril Evans was portrayed by Adam Barker in James Cameron's Titanic, but his scenes were cut from the film, and he was therefore, uncredited. However, he appeared in the film's deleted scenes.
Community content is available under
CC-BY-SA
unless otherwise noted.