Camilla Overbye Roos
Biographical information
Full name:
Camilla Overbye Roos
Nationality:
Danish
Birthdate:
1969
Age:
52
Occupation:
Actress
Camilla Overbye Roos is a Danish actress. She was born in Copenhagen, Denmark, into a family of three generations of filmmakers. She spent most of her childhood at a film studio in Copenhagen.
She spend most of her childhood at a film studio in Copenhagen and always interested and observing, it soon became a part of her life as well.
Growing up, she worked every job behind the camera as well as an actress, making her first appearence in a film at the mear age of 3. She worked with such internationally renowned directors that are listed below:
Lars Von Trier
David Lynch
Ridley Scott
At the age of 14, Camilla joined a travelling circus, she performed with them as a knife thrower for a year. In 1993 she was the first Dane on the cover of Life Magazine, in 2000 she started her own company (Krata Productions), which was named after a Viking Myth (producing and directing documentries for BBC, Arte, USA Network and TV2 and many more. In 2003 Camilla won the best actree at the NY Independent Film Fesitival for her starring role in "Under The Influence"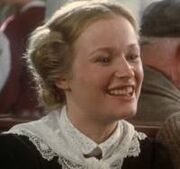 Camilla Overbye Roos played the role of Helga Dahl in the 1997 film, Titanic. Helga was a minor character in the film and was the love interest of Fabrizio De Rossi and she was Norweigan. In the film her character perished with the ship.
Community content is available under
CC-BY-SA
unless otherwise noted.