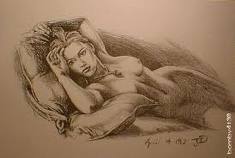 "The Woman in the Picture"
is the third scene in
the film
. It introduces
Rose Dawson Calvert
(formerly known as Rose DeWitt Bukater) into the film, along with her granddaughter,
Lizzy
.
The scene shows Brock Lovett discover that his findings from the shipwreck were useless while trying to persuade his people who are funding the exhibition he is close when he knows he isn't until he discovers that one of them is a drawing of a nude woman that was dated April 14, 1912, which was the night the ship sunk.
The nude woman was wearing the Heart of the Ocean necklace, which was the necklace Brock was looking for. That night, Lovett received a call from an elderly Rose, who had seen him being interviewed about the necklace on the television. She told Lovett that she was the woman in the picture. After that, Lovett had Rose and Lizzy flown out to meet him.